Alabama Native Recounts Catching Record Gator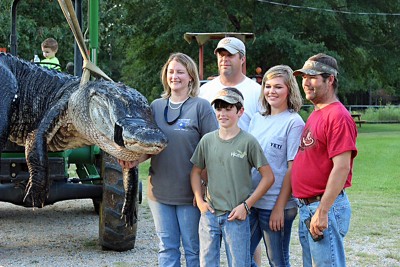 At 5 p.m. on Friday, Mandy Stokes of Thomaston, Alabama, was a wife, mom, and assistant to Dr. Bill Bledsoe at the Camden Veterinary Clinic. Less than 24 hours later, Stokes was an instant, multi-national celebrity. Stokes admits she had no idea what she was getting into during the second night of the Alabama alligator hunting season and, especially, the media feeding frenzy that started when word began to circulate about the 15-foot, 1,011.5-pound alligator that she tagged in the wee hours of this past Saturday morning in a slough near Miller's Ferry Dam on the Alabama River. "I...
Seven Questions with Huntress Julie McQueen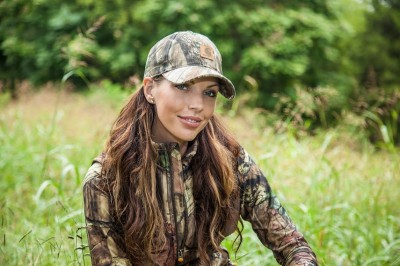 Julie McQueen is the co-host of
Brotherhood Outdoors
and a producer for Backstage & Backroads Productions. Her passion for hunting and sharing the outdoors with others is evident from her on-camera time and social media pages. I recently had the pleasure of speaking with Julie about her favorite kind of hunting, superpowers, and working side-by-side with her husband.
Britney: Please tell us a little about your background in the outdoors. Who introduced you to hunting and fishing?
Julie: I grew up on an Indian reservation in Oklahoma where there are plenty of...
The BAREBOW! Chronicles: Chasing Dreams

In 1989, I was fortunate enough to draw a Rocky Mountain bighorn sheep tag in my home state of Washington. This BAREBOW! Chronicle combines two different stories from
BAREBOW!
's 14th chapter. Both misadventures occurred on the same unsuccessful hunt, yet both are worth telling. The Umtanum Unit for which I was drawn was an archery-only unit, and it straddled most of both sides of the Yakima River, from Ellensburg to a point about 10 miles downstream, through what's known as the Ellensburg Canyon. Most of the rugged cliffs along the river were on the south bank, so that was...
Tips for Calling Squirrels to Enhance Hunting Fun and Success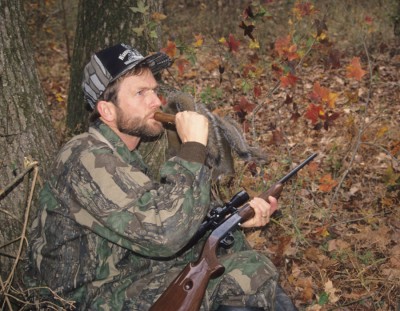 Communicating with game is one of the absolute joys of hunting. For squirrel hunters, calling can fire up a forest and increase fun and success, just as it can for turkey, deer, and elk hunters. Calling adds versatility to your hunting arsenal and allows for more efficient and effective hunting.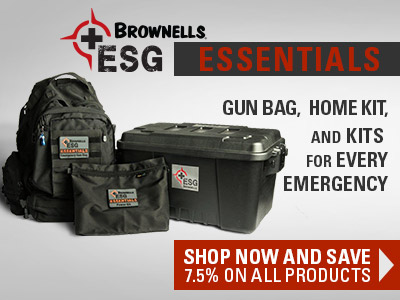 ...
Get Yourself More Hunting Land in Five Easy Steps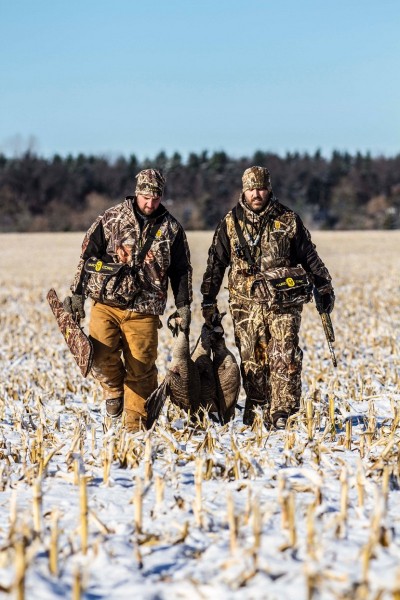 It's coming up on that time of year again---when we spend more time in a treestand than we do at a desk (or at least wish that we did). I don't know about you, but last year was not that great for me when it came to deer hunting. I had deer around, but they just didn't ever seem to cooperate. Don't they want to just hop right in the freezer? This year I've decided to expand my hunting opportunities by securing some new hunting land. There's a few ways to go about doing this, and I've got my work cut out for me. Do you want to gain access to more hunting land, too? Sure you do!...
Quebec Welcomes Hunters with Open Arms and Garbage Bags
What's your pleasure? Puddle ducks? Geese? Ruffed grouse? Woodcock? Sea ducks? Whichever, the days are quickly ticking off the calendar. Prime time will soon be here. Do you have your hunts booked for this fall? My own dance card is pretty full, but as I seek to plan hunts for the gaps, my starting point is the
Quebec Outfitters Federation website
. They are the best place to connect you with the province's finest operations. Though I'm a Midwesterner born and bred, Quebec has become a hunting home away from home for me over the years....
Hunting Deer in the Final Approach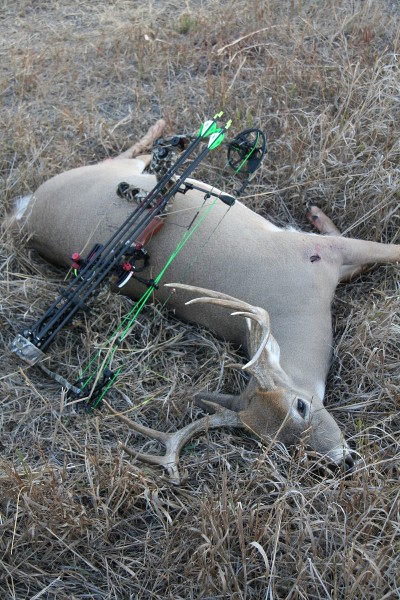 Those summertime bucks have been visible and you are looking forward to opening day in hopes of putting your tag on one---then suddenly, they just disappear. Here's what went wrong and how to fix it.
The buck in my spotting scope was not a giant by any means. His thick, stubby 10-point frame would maybe go 130 tops. But for this part of north-central Minnesota where more than 80 percent of bucks are shot when they are yearlings, just seeing a four-year-old buck was a rare occurrence indeed. What made this buck appealing was the predictability of his habits. I had seen him more...
Energy for Hunters: HuntNdurance
As we walked through the aisles at the International Sportsman's Expo (ISE) this year, we checked out the latest and greatest products coming to market. Jana and I had traveled from Montana to Salt Lake City, Utah to meet and greet the thousands of ISE attendees at the Sportsman Channel's booth. Over the three-day event we visited with many manufacturers, who had the latest gadgets they were bringing to market. Halfway into the show we were headed to grab a bite to eat when we came upon a vendor that had a super-cool display featuring new energy drinks, bars, and shots. We were both...
Hunting Michigan's Seven Wetland Wonders
To waterfowl hunters, there are some historic destinations that fill dreams and top bucket lists. While it's well-known for excellent deer hunting and amazing fishing, Michigan is also home to some amazing waterfowl hunting action. What's better still are the outstanding Managed Waterfowl Hunt Areas that make up the Great Lake State's Seven Wetland Wonders. Unlike deer hunting, some of the best action hunters can find for waterfowl is on public land. Establishing in the 1960s and early 1970s, the Managed Waterfowl Hunt Areas offer a diverse array of hunting opportunities and...
Why a New Shooter's First Shotgun Should Be a Semiauto
My first shotgun was a single-shot hammer gun, a hand-me-down from my mother. Dad bought it for her while they were dating, and though they hunted together a few times, Mom never caught the fever. She loved the dogs. She loved walking in the autumn fields, but shooting stuff---not so much. A couple outings quenched her curiosity of what her fiancée found "fun" in all this, and she never touched the gun again. Today, I work part-time at a small sporting goods store, mostly to get out of the house and to maintain measure on the pulse of what real hunters and shooters are buying. Usually,...