The BAREBOW! Chronicles: The Stalking Bull

For an hour-and-a-half, I had been stalking him---"stalking" in the most aggressive manner possible! Every time I would grunt, thrash the brush, and run right at him (using all possible cover) he would move out ahead of me, staying just beyond bow-range. On two occasions in the early stages of the encounter, he had approached to within some 30 or 35 yards, but he had hung up in places where I could see only the tops of his antlers; then, after a while, he would silently steal away, forcing me to put the rush on him again. Even though I had managed to keep the wind in my favor, the pattern...
9 Ways to Survive the Zombie Deer Apocalypse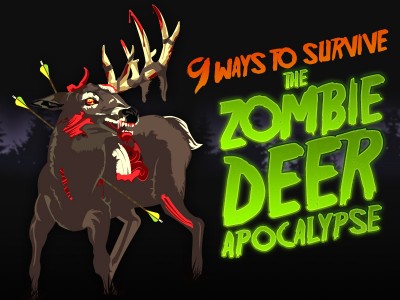 Picture yourself atop your treestand. The forest is quiet and the only sounds for miles around are the rustling of leaves, the occasional screech of the wind, and you sipping coffee from a thermos. You feel stiffness in the fingers of your right hand because you haven't moved them in so long, and the breeze is cold. You notice it swaying the bow next to you. That's when you hear it---a mad braying from somewhere deep in the woods. It's a high-pitched bleating that is unlike anything you have ever heard, and it has a distinctly ominous tone. Soon, the call is joined by others and the cold...
Wisconsin Leopold Fans Reflect as They Reenact "Good Oak" Chapter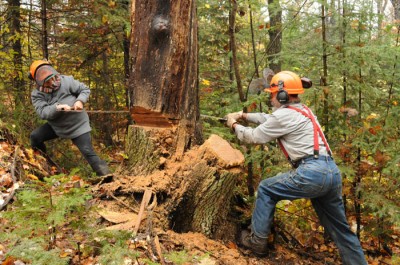 When felling an old red oak by committee, you learn plenty about the tree, the land that nurtured it, and the animals, birds, and people who benefited from its long life. That was just one lesson learned when 18 hunters, tree-huggers, and other conservationists of various ages and backgrounds gathered October 4 in northwestern Wisconsin to re-create the "Good Oak" chapter from Aldo Leopold's famous book,
A Sand County Almanac
. Leopold wrote the chapter after pulling and guiding a two-man crosscut saw through his lightning-killed oak north of Baraboo on the Wisconsin...
The Definitive Guide to Harvesting Big Bucks on Small, Suburban Properties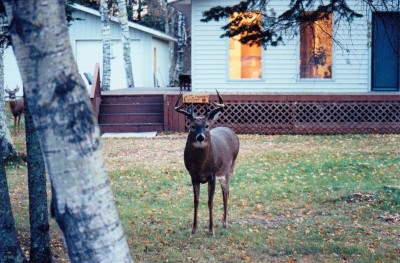 More and more big bucks are showing up in suburban areas. If you find the right small property and get permission to hunt there, you might be surprised to see what walks by your stand.
I've seen some really nice deer in some really weird places. Often these places are in parks on the outskirts of cities, and even more often, big bucks live in bedroom communities where the habitat may not be ideal, but the hunting pressure is minimal or even nonexistent. Take for example the experience of Josh Runksmeier, a friend of mine who was discussing deer with a coworker who told him...
One of a Kind? Jeff Foster's 2011 Albino Mule Deer Buck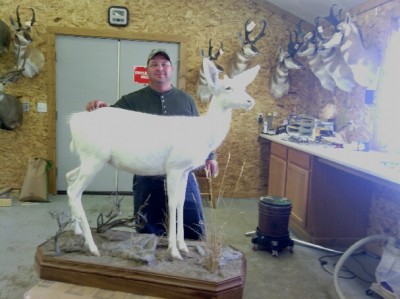 Just how rare are albino mule deer? Not even biologists have a definitive answer, yet some speculate that only one in 500,000 mule deer are born albino. Albinism occurs in mule deer far less frequently than in whitetail, and few ever survive into adulthood. That is why when Jeff Foster harvested a young albino mule deer buck, he suspected that it could be the only one of its kind. "In 2010 me and a couple friends of mine were in Kaycee, Wyoming and I spotted this albino mule deer," Foster told me. "I saw it three times and on the third time I showed it to my friends on the spotting scope...
October Brings Big Bucks to Michigan Bowhunters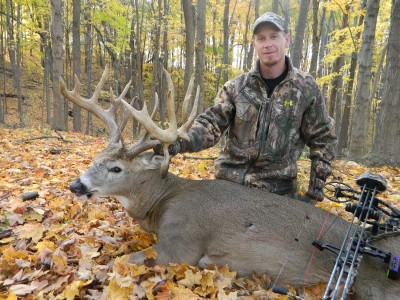 October means a lot of things to Michigan outdoor enthusiasts. There are the glorious colors of the leaves as they turn from green to various shades of red, yellow, orange, and brown before falling to the forest floor. There are tremendous fishing opportunities as salmon make their final push. Streams, rivers, and lakes come alive with fish grasping for one last feast before the winds of autumn bring the freeze of winter. For the deer hunter, however, it is the first opportunity to chase the elusive whitetail. Michigan's archery season is a great opportunity to harvest a deer and this year...
5 Hunting Video Games You Have to Check Out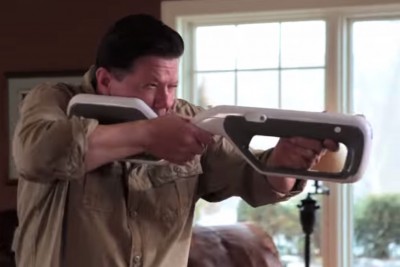 Hunting is all about ditching the couch for outdoors. So trying to ape all the experiences that come with a hunting trip---the smell of the forest, the weight of the rifle in your hands, and even cleaning the muck off your boots---is a tall order for any video game developer. It's almost counter-intuitive, as one of the biggest draws in hunting is enjoying what America's natural resources have to offer and bonding with your fellow hunters in the field. Yet that didn't stop a host of game studios from offering their own take on a virtual hunt. If you ever find yourself sitting at home and...
Is Your Slug Gun Ready for Deer Season?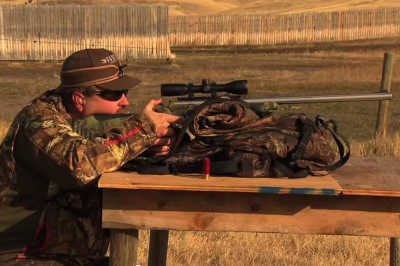 Slug hunting for whitetail deer has experienced something of a renaissance in recent years. Building a slug rig used to simply consist of swapping in a short, open-choked barrel with rifle sights on your duck or pheasant gun. We relied on molded rifling on the slug itself to impart spin to the projectile and create some resemblance of accuracy. These were 100-yard hunting rigs at best---often more like 50 to 75 yard rigs. That big "pumpkin ball" carried enough energy to bring down a deer farther out, but consistent accuracy just wasn't there. Then came rifled slug barrels, and the...
9 Questions with RMEF Ambassador Kristy Titus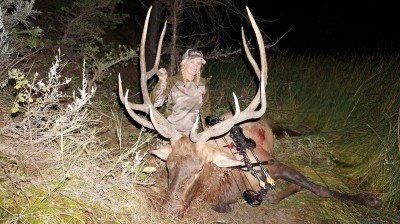 Kristy Titus is an avid sportswoman with a passion for elk hunting. Along with being an ambassador for the Rocky Mountain Elk Foundation (RMEF), she is also a featured member on
Team Elk
, RMEF's television show. I recently caught up with Kristy to talk about all things elk hunting.
Britney: Please tell us a little about your background in hunting. Have you been doing it for your entire life?
Kristy: From the time I was two years old, I started riding with my dad, on his saddle, while packing into the backcountry. I had my own mule by the age of four, and still...
5 Reasons Why Everyone Needs to Experience Michigan Upland Hunting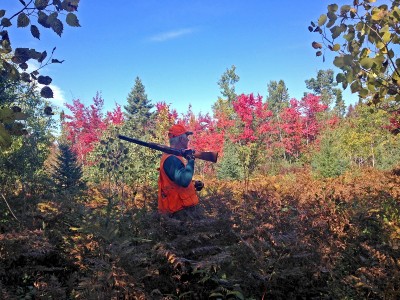 Busting brush in either of Michigan's peninsulas can be an upland hunter's dream come true. With millions of acres of public land, multiple species to hunt, and camaraderie galore, Michigan should be on the any upland hunter's "must visit" list. Below are five reasons why you should upland hunt in Pure Michigan. 1. Multiple species of upland birds Michigan's diverse habitats---from aspen forests to wide, open fields and everything in between---play host to myriad species for upland hunters to chase. Ruffed grouse, sharp-tailed grouse, American woodcock (migratory birds), bobwhite...