5 Knives You Should Purchase with Your Tax Refund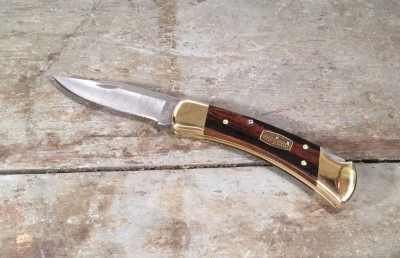 Like many Americans, my fear of tax season is offset in a small way by the promise of a refund. It's the added incentive that many of us need to file taxes early---or at least before the post office closes down on April 15. As I wait for the refund to deposit itself in my bank account, I find myself daydreaming about how I'm going to spend it. Of course, fiscally-responsible options are about at the bottom of my list, but I also don't get carried away. After all, the majority of us won't be able to afford a new yacht on their tax refund. So why not invest in an upgrade to the one outdoor...
Give Snow Goose Hunting a Shot This Spring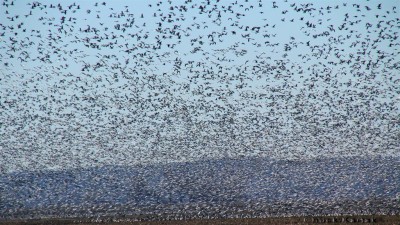 If you're a waterfowl hunter, you're accustomed to a plug in your gun's magazine that limits you to three shots at a time. You're also used to strict bag limits and possession limits. But a hunter pursuing snow geese in the spring has no such restrictions. From Arkansas to the Canadian border, snow geese make their way north each spring in numbers that are hard to fathom. Goose hunters lie in wait all along the way, hoping to make a dent in the incredibly high population. It wasn't always this way. Snow geese rebounded from very low populations and the middle part of the 1900s. But...
How to Camouflage Your Gun (and Almost Anything Else) with Mossy Oak Graphics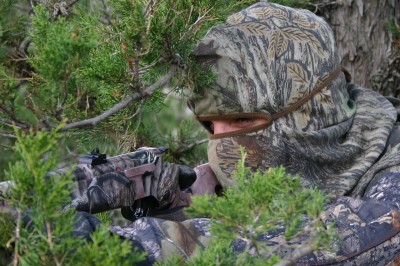 Over the course of my hunting career, I've gone back and forth on whether I should treat my firearms as works of art to or simple tools to get a job done. Truth be told, I own guns that fall into each category. But my field guns are all tools; part of a system meant to help me get as close to game as possible and ultimately make a clean, one-shot kill. In every case in which I'm trying to get the game to come to me, it's imperative that the gun blends in with the background. There are many ways to accomplish this. I've tried most, including taking the dull-finish duck boat spray...
Video: How to Smoke a Venison Ham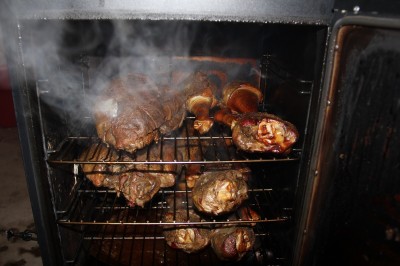 This past fall, my wife shot her first deer in 32 years. Before you read the rest of this article,
you may want to watch the video here
. As you can see, she hadn't hunted for 32 years, but she shot a deer in the first half hour of hunting this fall. Toward the end of the video you can hear me say something to the effect that it will be a good eating deer---and she says she knows what that means! A trophy is in the eye of the beholder, and this deer was a trophy for the two of us. It left me with some decisions to make. We eat a lot of wild game...
The BAREBOW! Chronicles: Lovelorn Louie, Wily Willy, and Suicide Sammy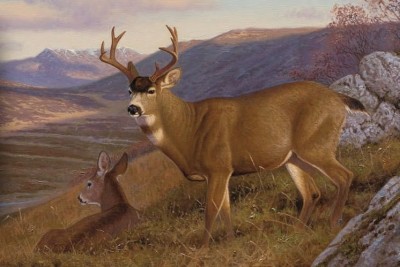 This is a story about three Sitka blacktail bucks. All of them had close encounters with me in the second half of November 2005, and two lived to tell about it afterwards. For storytelling purposes, I have hung a nickname on each one, which pretty well encapsulates the essence of the encounter. Their true names have been discarded in order to protect the innocent. On November 14, 2005, I flew to Anchorage, Alaska, and after overnighting there I was flown by Andrews Air Service down to the south end of Kodiak Island to begin my first serious Sitka blacktail hunt. Outfitter Scott Mileur...
Why You Should Use an Outfitter for Spring Waterfowl Hunting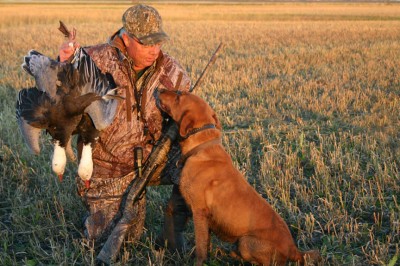 Spring snow goose hunting is a great "gap filler." Before we had the spring seasons, March and the first half of April dragged along as shotgunners waited for turkey seasons to kick off across a wide portion of the country. Now we can fill that time chasing geese. Are you going to hunt them this spring? Admittedly, this is a game with some pretty high barriers for entry. It takes time, specialized gear, hard-earned knowledge, and often lots of travel to be successful with spring white geese. If this isn't something you've done before or plan on doing frequently, you either need...
5 Outrageous US Hunting "Laws" That Are Completely Fake
Have you ever heard someone at your local sporting goods store say something completely outrageous and present it as fact? Was it something like "did you know it's illegal to hunt whales in Utah?" The hunting world is full of rumors, hearsay, and nonsensical "wisdom" passed around as truth. Some of the most ridiculous rumors pertain to so-called hunting "laws" in certain parts of the United States. We've collected five of our favorites and provided them below. 1. It is illegal to hunt camels in Arizona Never mind that camels aren't listed as a game species in Arizona, but some claim that...
Video: 7 Heart-pounding Close Encounters of the Bear Kind
Generally, the only time hunters ever want to see a bear up close is when they're actually hunting for one. Otherwise, running into a bear can be a tense situation, especially if you got several pounds of deer or elk meat on you. Brown bears are indisputably the most powerful land predators in North America, and a confrontation with one could ruin your day very quickly. Black bears may be smaller, but that does not make them any less dangerous if they get it in their minds that you're a threat. This goes double if there are cubs around. Here is our list for the top seven scariest...
Behind the Scenes with Danish Speed Archer Lars Andersen
Lars Andersen's newest video (embedded below) showed him jumping while shooting a bow, splitting an arrow on a knife, defensively shooting an incoming arrow, and catching an arrow then returning it in mid-air. http://youtu.be/BEG-ly9tQGk Now with over 25 million views and counting, it has been incredibly exciting to watch worldwide interest in Andersen's archery grow. "It is fun when a small hobby explodes in media around the world and many [people] want to reach me," said Lars. "But it's also a little scary how fast things go." Andersen is a painter by profession, and...
Young Bucks: The Stories of Two Giant Whitetails Taken by Youth Hunters
Sometimes the biggest buck in the woods doesn't fall to the person who has the most experience or puts in the most time. Sometimes fate just smiles on people in random places---as was the case for two giant bucks harvested by young hunters this past year. Reid Rummelhart There is no justice in deer hunting. Some guys hunt their whole lives without ever seeing a true giant whitetail. Then a 210-inch buck walks out in front of an 11-year-old. If that makes you angry or jealous, then you might want to find a sport in which there's a semblance of justice. But if you are thrilled for the young...